The yacht buying boom of the Covid years may be winding down, but the world's biggest yacht builders still have order books stretching into 2024 and build slots are rare at the best yards. This means a lot of yacht owners who want to upgrade are considering a refit project to get the best technology and comfort, sooner rather than later.
When most boaters think of refits, massive superyachts come to mind. But owners of midrange 40-, 50- and 60-foot yachts may also want to give their beloved boats a new lease on life or they may simply want the comfort of a modern yacht without the expense of a new build.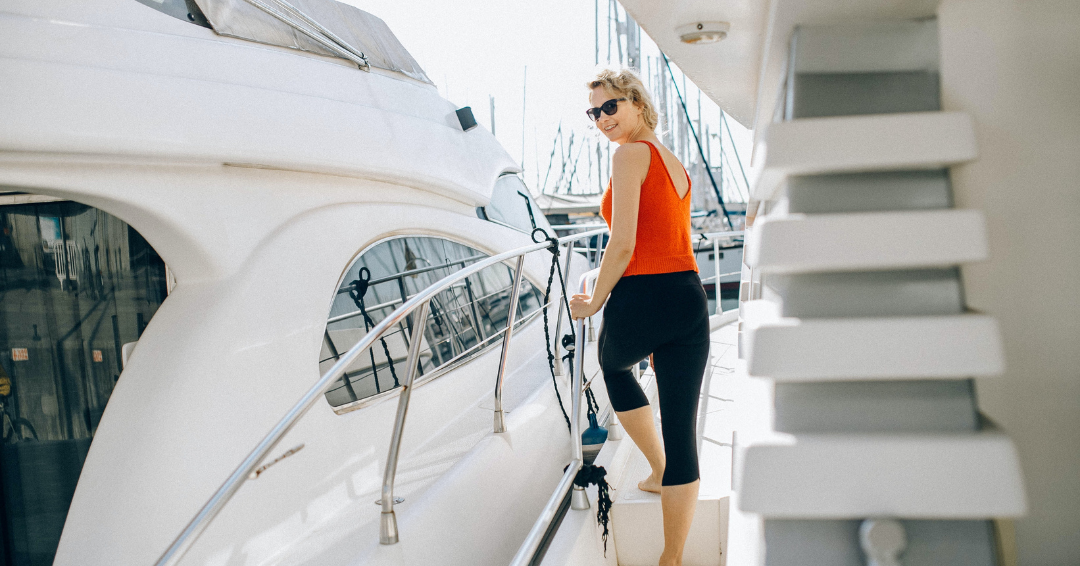 One of the biggest factors in comfort onboard is stability at sea. The rolling motion of a yacht, underway or at anchor, can be sudden, surprising, and distressing. Dishes can break, drinks spill, and guests may even suffer nasty falls. There is also seasickness, which is likely to ruin a wonderful boating excursion. The solution for owners is to refit their yachts with the best in stabilization systems.
First, it is essential to note that a refit is different from a restoration. While a restoration is done to preserve a boat's original design and features, a refit is about modernising a boat and improving its performance and functionality. Adding a gyro stabilizer during a refit is an excellent way to not only increase the stability of the vessel, but also to increase its value and overall performance.
Mid-range yachts between 30 and 70 feet often didn't come with stabilization systems as standard or even as an option until well into the 2010s. That means finding space on an older yacht to install a stabilization system is a key requirement but also a potentially difficult task. No owner wants a refit project that winds up blowing holes in the budget because of cutting holes in the deck or rebuilding bulkheads.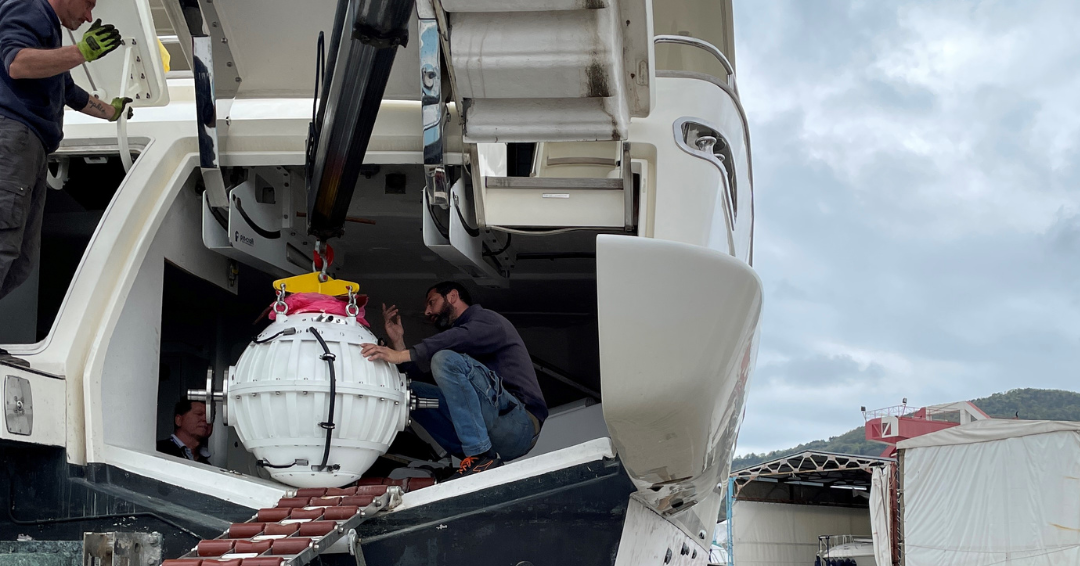 The good news is that Smartgyro stabilizers are designed specifically for refit projects. The unique modular mechanical design of a Smartgyro unit means, among other benefits, that the base frame can be broken down into parts allowing installation through narrow access hatches, making refitting easier and more cost-efficient. This is a key benefit when working with an older yacht that may not have included stabilization technology in the original design. The successful installation aboard a Mangusta 92 demonstrates how Smartgyro can work with owner, ship yards and retrofits specialists for smooth installation.
A gyroscopic stabilizer has other big advantages in keeping refit costs down, especially compared to fin stabilizers. Unlike fin stabilizers, our modular gyroscopic stabilizers do not require any new through-holes cut into the hull. That means less work on the hull, thus keeping dreaded mission creep to a minimum. It also means the original hull shape stays the same, preserving the original hydrodynamic efficiency of the hull design.
In conclusion, adding a gyro stabilizer to your boat during a refit is an excellent investment that can significantly enhance your boating experience. The key to making a refit project successful is to have clear goals, new levels of comfort and performance, and to keep the budget in line. Smartgyro modular gyroscopic stabilizers are a big help in achieving all these aims.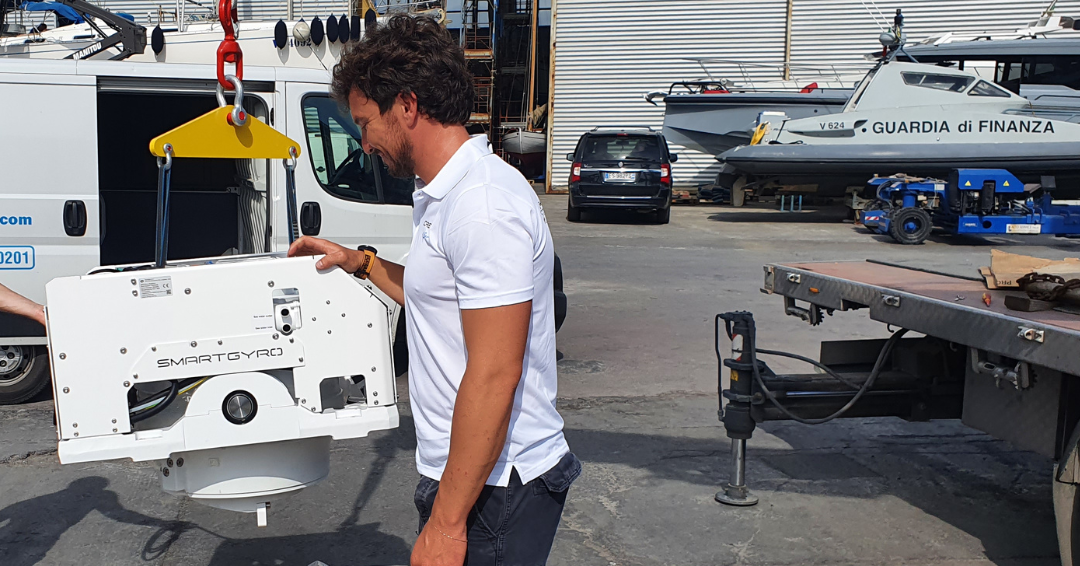 CONSIDERING A SMARTGYRO?
HERE'S OUR GUIDE TO HELPING YOU FEEL THE MAGIC ON BOARD YOUR BOAT.
We are confident enough in our design to say that we don't just make installation possible – we make it easy. Here are the necessary steps to installing a gyro stabilizer during a refit:
The right Smartgyro for your boat
The ideal unit for your boat can be determined from basic information such as its length and weight. However, for a more precise calculation, we would recommend contacting our Smartgyro experts, who would be happy to guide you through the process and will provide a roll reduction prediction report based on the vessel's specifications and intended use.
Where to install your Smartgyro
Once you've selected your SG unit, you'll need to find its new home. A professional marine engineer can help you to find the ideal spot onboard. The good news is as long as you have enough space behind the midpoint of the boat (aft mid-ship), a Smartgyro can be installed almost anywhere! It can be on or off the centre line, and it can also be above or below the waterline.
Consider any modifications
If you are undertaking a refit, chances are you'll be reviewing the electrical and plumbing systems and updating or removing any obsolete equipment. Next, you'll need to make any necessary modifications to the boat's structure to accommodate the stabilizer and reinforce the hull if necessary. If not already on your "to- do" list, we would recommend a new seacock, for efficient flow of the cooling water.
Installing the stabilizer system
The actual process may vary depending on the stabilizer you choose. In summary, due to the design of our units, as long as there is enough space, installation just requires the gyro to be positioned and fixed to the boat structure. It is a relatively simple process, especially where there is narrow access.
To optimize unit performance once the stabilizer is installed, a certified Smartgyro technician can adjust RPM and other parameters. This will ensure the system is fully tested and operational to enable you to enjoy the benefits of stabilization in various conditions.
Feel the magic, continue the magic, for years to come
Proper maintenance is essential to ensure the long-term performance and reliability of the stabilizer system. Smartgyro modular design is also key to reduce downtime during maintenance. Most gyros must be uninstalled and shipped back to the factory. Other gyro stabilizer manufacturers have adapted their designs, but Smartgyro was always designed to be serviced directly onboard the vessel. This is also the reason why it requires some clearance for maintenance activities and, in exceptional circumstances, a hatch to allow the sphere to be removed.